Humans are not known for being amazing at managing change; at least, there's definitely been plenty of times where I've not been amazing at it. I'm guessing if you're reading this blog post then perhaps change is something that you've often pondered as well. We often cope with disruptive or stressful changes in our life with coping mechanisms but they are rarely early. I call them just-in-time coping mechanisms because we don't usually know how we will react to a change before it happens, even if we can see it coming. It might be a so-called positive change, but those changes are still very capable of causing stress.
I gave this talk a little while back on this subject and this blog post is the summary in case, like me, reading is more your thing. I looked at the challenge of personal change management from two angles, firstly for leaders who are instigating a change and secondly for those who are impacted by a change. I predominantly focused on workplace changes but you can extrapolate many of these ideas to personal changes as well.
Do's for leaders of a change
Let's say you're the one driving the change. Perhaps you're leading a change to the processes your team use for code reviews, or perhaps you're leading the whole team. If that sounds familiar, here are my top tips:
Be transparent; share as much as you can and share it in a timely fashion. Of course, as a leader, there may be some pieces of knowledge that you can't share but the vast majority of the time it's much better to be open and transparent with what you know (and what you don't know).
Include people; share your leadership vision and why. If people know why you're changing something, they are far more likely to not only help with the change but have a better experience throughout its life cycle.
Lift others up; be aware of whatever privilege you have and help others achieve their goals.
Give people choice; change is disruptive, maybe this change isn't for everyone, always give and respect the choices people make.
Celebrate people; even those that leave your team; in fact especially those that leave your team! People leaving is not always a sign of a "bad manager" that's a sweeping generalisation in my experience. Remember that person will still be talking about you and the company they left years after the event – make sure their memories are positive ones.
Plan people's first day and onboarding meticulously; set people up for success. You've invested a lot of time and effort in them to get them to this point so set them up for success at each step of the way. First appearances really do matter. Give them a warm welcome.
Photo by Vlad Bagacian on Unsplash
Do's for those impacted by a change
All of us will find ourselves in this group sooner or later, change is, after all, inevitable. If you're impacted by a change, irrespective of if you saw that change coming, consider the following tips:
Find out more; get in front of it, especially if you didn't see it coming. It's vital that you inform yourself and get as much information as you can so you can make decisions as required.
Consider if you should cut your losses and move on; sometimes it's just not worth it. If you're not sure if it's for you, give yourself a timescale in which to decide and give some thought as to what you need to find out before you can make an informed decision.
Give yourself time and space to the change; remember coping mechanisms are just in time and many things are improved with a good night's sleep.
Don't be afraid; you got this!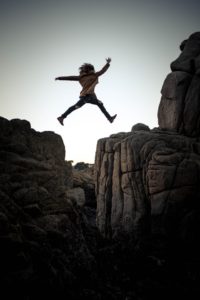 Photo by Sammie Chaffin on Unsplash
Remember!
Finally, here are a few points to remember about change:
Change is scary; informing yourself and giving yourself a timescale to respond to that change can help reduce the scariness level.
Change is inevitable; you will always be impacted by a change, and sometimes you will be the one driving the change. Try and enjoy it, or even thrive on it.
Change can lead to opportunities; sometimes staying put and accepting the change is in your best interests, sometimes it's not.
You control more than you think you do; really you do!
Photo by Miguel Bruna on Unsplash
Helpful Links